The Bradby Shield Encounter just got a little more spectacular. The long awaited Royal – Brandix Sky Pavilion was ceremoniously declared open today by the Principal of Royal College, Mr. Upali Gunasekara and the Chairman of Brandix Lanka Ltd., Mr. Ken Balendra. This tremendous new infrastructure development will bring about an increase in the capacity for crowds by around 20%; from 10,500 to 12,500.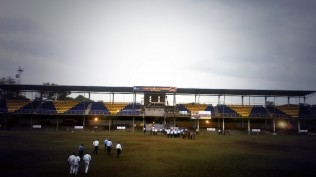 The structure came up in an unbelievably short period of just seven months, under the guidance of the Touchdown 2012 Committee, who recognized the need for such an expansion after seeing the increase in numbers at the past few Bradby Shield Encounters.
We at Royal College would like to convey our immense gratitude to the Royal College Union, the Touchdown 2012 Committee and also our Key Sponsor Brandix Lanka Ltd. along with E.B. Creasy, RCU 175th Year Anniversary Committee, Cargills, Singer Sri Lanka, Etisalat, Browns Group, Expo Lanka, Maharajah Organization, Mobitel, Ceylinco Insurance, Ceylon Biscuits Ltd., ACL Cables, NDB Bank, Ceyline Group and CINEC, without who's support this dream would never have become a reality.
We also believe that this new addition to one of Sri Lanka's premier sporting venues; the Royal College Sports Complex, will bring new vigor to the First XV and push them forward to achieve a truly memorable victory!
Floreat!